National Service Scheme (NSS)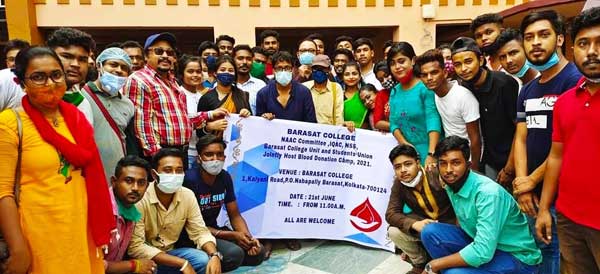 The NSS Badge
A youth volunteers who opts to serve the nation through the NSS led community service wears the NSS badge with pride and a sense of responsibility towards helping needy.
The NSS badge has the"Konark" wheel embedded in it. The 8 bars of the "Konark" wheel signify the 24 hours of the day, reminding the wearer to be ready for the service of the nation round the clock i.e. for 24 hours.Red colour in the badge signifies energy and spirit displayed by the NSS volunteers.The Blue colour signifies the cosmos of which the NSS is a tiny part, ready to contribute its share for the welfare of the mankind.
Motto of NSS
The motto of NSS is 'NOT ME BUT YOU'. One has to forget and surrender the self, and should be ever ready to render selfless service to others.
Benefits of Being a NSS Volunteer
An active NSS volunteer has the exposure and experience to be the following:
1. An accomplished social leader.
2. An efficient administrator.
3. A person who understands human nature.
Throughout the year the volunteers of the NSS Unit of Barasat College take part in various social outreach programmes, viz., visit to old age homes and orphanages, blood donation camps, illiteracy eradication programmes, tree plantation, Thalassemia awareness and screening test, campaign against use of cigarettes and tobacco products by awareness rally, eye testing camp, awareness programme on disaster management, gender sensitization, HIV, AIDS and mosquito-borne diseases etc. The NSS Unit of the College has been working relentlessly for the upliftment of the "Kisholoy Home" and economically challenged children of Hridaypur.
Some of the recent programmes of the NSS units
| # | Academic Year | Date | Programme Name | Details |
| --- | --- | --- | --- | --- |
| 1 | 2021-22 | 22/07/2022 | Swachh Bharat Clean Campus Initiative | View |
| 2 | 2021-22 | 07/07/2022 | Student Credit Card Distribution | View |
| 3 | 2021-22 | 12/05/2022 | The Philosophy of Service and Sacrifices | View |
| 4 | 2017-18 | 27/03/2018 | Special Camp on Health Awareness | View |
| 5 | 2017-18 | 18/01/2018 | Free Eye Check-up Camp | View |
| 6 | 2017-18 | 18/01/2018 | Blood Donation Camp | View |